Live Event
Thu Nov 18, 2010
5PM - 5PM EST
This link has lead you to the OLD auction from 2010. CLICK here to bid in 2011 Auction : https://www.biddingforgood.com/auction/item/Donate.action?auctionId=136896893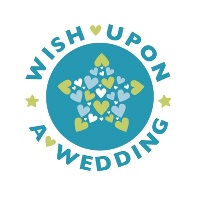 NOTE!
2011 AUCTION page has moved to https://www.biddingforgood.com/auction/item/Donate.action?auctionId=136896893
Read the Terms and Conditions BEFORE making a donation.
WHY DONATE
Help make Wedding Wishes come true for terminally ill individuals. Receive great exposure for your business. PAY IT FORWARD, and gain business in return. If approved, your donation may be featured as a "Weekly Wedding Wow".
REQUIRED INFORMATION for ALL DONATIONS:
TITLE Include your LOCATION (ex: Chicago) and description of your donation. EXAMPLE Chicago Wedding Day Photography
PHOTOS Upload four recent images of your work
ITEM INFORMATION / INCLUDE THE FOLLOWING
business name

business address

business phone

business website

busines email

black out dates

restrictions, special instructions

shipping and/or delivery information
NOTE ABOUT YOUR DONATION
Your submission will more likely be accepted if you donate "A Custom Cake for 100 guests, maximum value $600.00" Rather than $100 off any Custom cake order. This is just an example. We need actual items, and services. Coupons type donations are not accepted.
Donations with incomplete information will not be accepted. Once you have donated an item to Wish Upon a Wedding, it becomes the property of the organization and may be used at any time in future auctions.
ABOUT THE AUCTION
Beginning September 1, 2011, Wish Upon a Wedding will host a nationwide online auction, offering hundreds of products and services.
Most items are carefully selected to help couples create the perfect wedding or event. Proceeds from these items will help make Wedding Wishes come true.
TIMELINE
June 27-August 27, 2011 Donations Accepted
Before August 31, 2011 If your item is accepted you'll receive email notification
September 1- October 31, 2011 Auction Open for Bidding
TAX INFORMATION
Most donated items are tax deductible. However, we recommend that you speak to an accountant for clarification. Wish Upon a Wedding is a 501 c 3 tax-exempt organization, organzied exclusively for charitable purposes.
Refer a Friend
Spread the word. The more items we offer the more successful our fundraiser will be. Click on the "Refer Friends" button to give others the chance to get involved and have your name appear in our "Top Referrers" list.

Wish Upon a Wedding thanks you in advance for your donations and your participation.