Auction Ends: Jan 16, 2013 10:00 PM EST
Auction Closed! Thank you so much for your participation!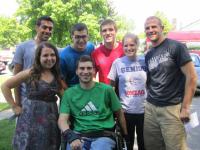 The HelpHOPELive: Online Auction for Drew Hoffman was a great success. Thank you all for taking the time to support Drew getting back on the road. With the money we raised together, he is certainly much closer to that goal! Congratulations to everyone who:
placed a winning bid

generously donated an item for auction

invited family, friends and community to make their bid
We will be mailing out the remaining items to winning bidders over the next couple of weeks. And again, all shipping costs are being covered, so there will be no additional charges.
Tickets to the BBQ in Colorado are still available for purchase, so feel free to click on the "Live Event" icon to the left if you would like to attend.
Keep an eye out for an update on how much was raised from the auction--we'll be posting and emailing the results in the next couple of days.