Auction Ends: May 11, 2013 08:59 PM PDT
Online Auction Open! Let the Bidding Begin!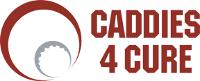 The Caddies 4 Cure Primetime Experiences is now open. The auction will run from April 11, 2013 to May 11, 2013, with proceeds going to Caddies 4 Cure in order to support Randall Children's Hospital and our local chapter of the National MS Society.
Make Your Bid to Support Caddies 4 Cure!
AUCTION WATCH: Featured Items