Auction Ends: Feb 23, 2014 10:00 PM EST
The Baltimore Sun Online Auction for Center Stage is now closed!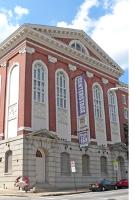 The Auction is now closed!
Thank you to all of our generous bidders and donors.
For the past 37 years, Center Stage's annual auction has been one of the theater's largest fundraising events. Throughout its tenure, the auction has raised close to $5 million for the theater's artistic, education and community programming.
All auction items are donated to Center Stage for use in this auction, and are sold as is. Descriptions are provided by the item donors, and neither Center Stage nor the Baltimore Sun are liable for any warranty or representation not expressly stated. Some restrictions or exclusions may apply.
*NOTE: Registration through Bidding for Good is required. All sales are final. Your credit card will not be charged unless you win an item. All billing will be done through Center Stage at the completion of the online auction. A 6% Maryland sales tax will be applied to taxable items. There is no other event associated with this auction - your high, online bid wins!
We would like to thank our sponsors....
Supported by:
Lead Donors
Special Donors