Auction Ends: May 2, 2014 08:00 PM EDT
Online Auction Open! Live Auction Event Coming Soon!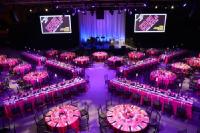 The online portion of 2014 Spotlight Spectacular is now open. The auction will run from April 11, 2014 to May 2, 2014. Proceeds help to support the Huntington's award-winning youth, education, and community initiatives, reaching more than 33,000 annually.
The Huntington Theatre Company's Spotlight Spectacular gala will take place on Monday, April 28th, 2014 at The Park Plaza Castle. We are thrilled to be honoring Huntington Trustee John D. Spooner — financial advisor, Improper Bostonian columnist, and the celebrated author of No One Ever Told Us That (#1 Boston Globe best seller). The Boston Globe calls John "a national treasure" and Inc. Magazine describes him as "a phenomenon." The event will also honor Tony Award winner and MacArthur Fellow Mary Zimmerman, director of The Jungle Book and Candide at the Huntington. Mary's groundbreaking work has been lauded for its originality, and USA Today calls her "one of the country's most imaginative writers/directors."
To purchase tickets or make a contribution to the Spotlight Spectacular, visit our site.

You may also make a contribution to support our Sponsor A Class initiative here.
Many more items will be added daily so please continue to check back! Tell your friends and family, and let the bidding begin!
Thank you for your support!
Make Your Bid to Support The Huntington Theatre Company!