Auction Ends: May 9, 2014 11:59 PM EDT
Bidding Begins March 1st at the NCBA PAC Auction!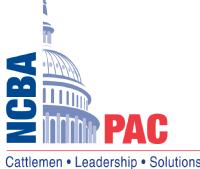 Welcome to the NCBA-PAC online auction website! NCBA-PAC is the political action arm of the National Cattlemen's Beef Association. We are dedicated to help elect legislators who understand the U.S. beef cattle business and also understand that protecting America's farms and ranches is critical to sustaining the freedom that all Americans enjoy. The items displayed on this site have been donated by individual cattlemen and the associations that represent American cattlemen's interests. Please feel free to have a look at the unique items offered for sale here. There are many rare opportunities that are only available because of the generosity and the resolve to make a difference in Washington, D.C. that these donors believe in. These items are as unique as the outfits making the donation and I encourage you to click the logos at the bottom of each page and check out the donors as well. You will find some great folks that are like-minded in working to make a difference in the cattle industry and preserving the cattlemen's way of life. Please consider the items offered here and know that not only are you buying a really cool item for you and your family or business associates to enjoy, but at the same time you are helping to preserve an iconic way of life here in America as well.
Special Notice: This is for NCBA members and affiliates and not a solicitation of the General Public.