Online Auction Closed! Thank you for your participation! Live Event this Thursday!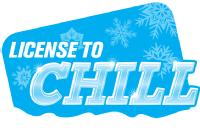 Advance ticket sales for License to Chill have closed. However, tickets will be available at the door for $40 per person.
License to Chill (Live Event) - June 7, 2012

Looking for a fun night out that supports a great cause?
Look no further than WinterKids' License to Chill celebration!

What: A fun & funky fundraiser for WinterKids (a.k.a. the coolest party of the summer)

When: Thursday, June 7, 2012 6:30 p.m. - 10:30 p.m.

Where: Bubba's Sulky Lounge in Portland (across from the Forest Ave post office)

The fun is guaranteed, and will include:

Laughter - Improv comedy by Running with Scissors

Dancing - Music by North of Nashville ("2 guys, 8 instruments: Outlaw Country meets Pop meets Bluegrass meets Awesomeness")

Good Food - Buck's Naked BBQ & Portland Pie Company

Good Drinks - Two free drink tickets per guest

Great Company - Special guests, Seth Wescott (two-time Olympic gold medalist) and Karen Morgan (Maine's Funniest Mom)

We would like to thank our sponsors...