Live Event
Sun Feb 22, 2015
3:30 PM - 8:30 PM PST
Christopher B. Smith Rafael Film Center
1118 Fourth Street, San Rafael, CA 94901
Top Bidders
dasheim

$623

gadgetgurrl7

$511

SCHAL

$425

charlieguinness

$420

kimstanbro

$320

cvandyke

$302

murakami

$275

ew0879008

$233

abainbridge

$181

mj2dddf7d

$170
Online Auction Closed! Thank you for your participation!
LIVE Event this Sunday, February 22nd! Limited number of tickets are still available for our Awards Night Gala! www.cafilm.org/awardsnight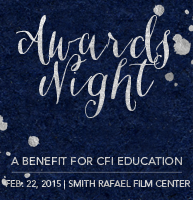 Thank you all for taking the time to support California Film Institute Education and its outreach programs. Congratulations to everyone who:
placed a winning bid
generously donated an item for auction
invited family, friends and community to make their bid to build a better world.
AUCTION WATCH: Featured Items