Our Online Auction is open! Bid now, bid frequently, and bid generously!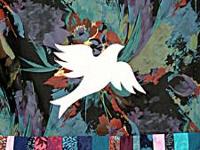 Allen Avenue Unitarian Universalist Church of Portland, Maine is growing a community that transforms lives through the power of love.
As a church we celebrate diversity, encourage spiritual growth and foster social responsibility as we walk with care on this Earth.
We empower our members to share their gifts to build a world of compassion, equality and freedom.
Unitarian Universalist churches welcome people from all races, ethnicities, sexual orientations and religious backgrounds. We have no creed to which members must agree. We rely on our ethical principles to guide us. Allen Avenue UU Church is well known for its members' service to the community, including our participation in Project Feed, the Preble Street Soup Kitchen, Equality Maine, Furniture Friends, and Portland Adult Education.
Every two years the Allen Avenue UU Church conducts a major fundraising auction...
... Now is your chance to bid on some - or all! - of the amazing items our donors have generously contributed and at the same time support Allen Avenue and its programs in the community!
Check out these great bargains: