Featured Sponsors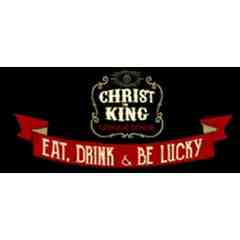 Donate Cash
Auction Links
Top Bidders
jf19d6bdc

$1,979

MLSSHS

$1,065

lr2bb62c1

$965

rmb9392c2

$753

bjc632961

$705

mt7dfaabd

$643

mc4097d49

$615

jenst21

$580

oh564c2e5

$472

mva7c553e

$422
Christ the King Catholic School online auction now closed. See you at the live auction and casino night!
Starting on May 1, 2017, Christ the King Catholic School is auctioning off a number of fun and unique items to bid on to raise money for our organization, so we're asking for your help.


Tickets are on sale for the live event!
Don't miss out on the biggest event of the year! Purchase your tickets early (by April 14th) and save $10/ticket! Only 200 total tickets will be sold.
Want to sponsor-a-teacher to attend? Make a cash donation on the homepage and indicate that you would like your donation to go towards making it possible to send our teachers to the live event!

What's in store for the live event?
You will enjoy a gourmet buffet dinner by Pacific Northwest Catering, casino games by Events Northwest (with a chance to win great prizes!), drawings, fun and games, exclusive bidding on mini auction items, and more!
What is this year's Fund-a-Need?
Christ the King has a 3-year plan to upgrade our K-8th grade science curriculum to meet National Science Standards. Furthermore, in supporting arts education at Christ the King, our visual arts studio is in dire need of building upgrades. This year, we hope our generous donors makes STEAM (Science, technology, engineering, arts, math) a priority and supports our Fund-a-Need. Full STEAM ahead.
Live Event Details
Sat May 20, 2017 5PM -
Sun May 21, 2017 11PM PDT
Christ the King Catholic School
415 North 117th Street Seattle, WA 98133
Add to My Calendar
Get Directions
Save the date for the 2017 Christ the King Catholic School Auction and Casino Night!
The annual auction is critical to Chist the King School, and is the most important fund raising activity of our entire year.
The proceeds from the auction have an immediate impact on the quality and scope of CKS's educational offerings.
Due to the generosity of previous year's donations, we have been able to fund programs such as:
State-of-the-art science kits
K-8th grade Spanish language instruction
Learning Resource Specialists
MacBook laptops
A modern Library Media Center
A brand new playground
Additionally, auction proceeds provide educational opportunities to families who otherwise would not be able to send their children to their local parochial school.
Become a Sponsor - Register to be a Donor
Place your company's logo on our site that links back to your own web page and you could develop new business. We can track how often your logo is viewed and clicked to see just how many people are accessing your site. Just click on the link below!