Donate Cash
Auction Links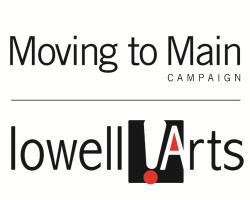 The Moving to Main Art Auction will help LowellArts accomplish the goal of establishing a new home on Main Street.
We assume you have already heard about the exciting plans...that LowellArts will be moving to a new location on Main Street in downtown Lowell. (To learn more about the Moving to Main Campaign, visit www.lowellartsmi.org).
Many in the artist community have stepped up to support the LowellArts Moving to Main Campaign by donating a piece of art to the Moving to Main Art Auction. This is one way that artists are able to give a personal gift to the campaign, and you have the opportunity to make their gift double, triple, or quadruple in value by bidding generously on their artwork.
All of the bidding for the artwork will be conducted on-line through the Bidding for Good website. 6% Michigan sales tax will be added to the purchase price.
Donated artwork will be on display at LowellArts, 149 S. Hudson St., Lowell, MI from September 13 to October 1. Stop by during gallery hours, Tues-Fri 10am-6pm and Sat 1-4pm, and see the artwork in person.
Would you like to give a monetary gift to the Moving to Main Campaign? Visit the LowellArts website to give securely on-line: www.lowellartsmi.org.