Donate Cash
Auction Links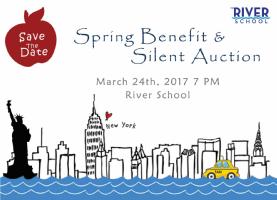 The online auction for the River School (PS 281) PTA's Spring Benefit is LIVE!
The River School (PS 281) PTA is auctioning off over 100 fun and unique items to raise money for the school.
Bidding is open now, so you can register or log in to your existing Bidding For Good account, and start bidding. The auction will close for most items the Sunday after the Spring Benefit (March 26) at 10pm. We also have some special items which will close on the night of the Spring Benefit (e.g., US Open tickets and Principal for a Day).
If you win the auction for an item, you must pick it up from the school. If you want it shipped there will be an additional charge.
Thanks for helping support our school, and HAPPY BIDDING!
-Jen & David, PTA Spring Benefit Chairs
Live Event Details
Fri Mar 24, 2017
7PM - 11PM EDT
The River School (PS281) - 2nd Fl gym
425 E 35th St New York NY 10016
Add to My Calendar
Get Directions
Help support our community school at the River School Spring Benefit & Silent Auction on Friday March 24, 2017 at 7:00pm!
The River School (PS 281) opened in 2013 and how includes kids from Pre-K through 3rd grade. Our fledgling school has cultivated a warm, wonderful, diverse community and we'd love to share it with you, our friends and neighbors!
Our Spring Benefit is a party for parents, teachers, staff, and community members to celebrate our school together. There will be food, drink, music, dancing, and a silent auction to raise money for the school. The funds raised pay for professional development for our passionate teachers, and enrichment programs to bring art, coding, and more into our classrooms.
Tickets are on sale now for $60 each, or $110 for a couple. Click here to buy yours!
Even if you can't make it to the event, we encourage you to help support the school by bidding on some of our fantastic auction items! We have over 100 great deals on things ranging from gift certificate to local restaurants, to summer camps for kids, to South African safaris!
Because this is an online auction, bidding on items is easy, whether you attend the event or not. And you can even start bidding on your favorite items before the event! Just register as a bidder, browse our auction catalog, and place your bids. We'll have some special items that you can only bid on in person at the event, but you will still use the online system to place your bids. Find out more about how mobile bidding works here, or email the spring benefit committee.
See you there!
Become a Sponsor
Place your company's logo on our site that links back to your own web page and you could develop new business. We can track how often your logo is viewed and clicked to see just how many people are accessing your site.