Donate Cash
Auction Links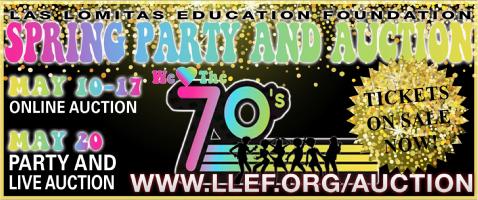 Don't Miss out on the Grooviest Party of the Year!! BUY YOUR TICKETS TODAY!
Tickets are now on sale! Buy Tickets now and join us for a far-out night that includes an incredible live and silent auction, dinner, and specialty cocktails. Dance the night away as we get down to some funky music performed by the baddest band around. Get special discounted pricing by using the code EARLYBIRD when you purchase your tickets by April 30th.
If you are new to the Las Lomitas community and this is your first auction, we would like to invite you to attend a special complimentary Pre-Auction welcome party hosted by Las Lomitas parents, Jay & Shekar...Come meet other new families and enjoy some fun as we travel together in style to the auction on a Las Lomitas school bus!
Interested in being a sponsor for the event? Please contact us at auction@llef.org and get some great exposure for your business or organization while supporting a wonderful school district.
Live Event Details
Order Tickets
Sat May 20, 2017
5PM - 10:30 PM PDT
Portola Farms
1545 Portola Rd, Woodside, CA 94062
Add to My Calendar
Get Directions
Join us for the annual LLEF Auction May 20th at Portola Farms. Tickets are $150 per person (discounts for EARLYBIRD purchases, teachers and staff) and go on sale April 1st. There will be a silent auction as well as a live auction. Dinner and drinks included. Don't miss the best party of the year! Use EARLYBIRD discount code to receive $25 discount if ticket is purchased by April 30th.
Each year, our community has the opportunity to fund a District need that directly supports excellence in our children's education. This year we want to enrich our book collections with awe-inspiring, spine-tingling, mind-bending books that deeply engage students, strengthen reading and thinking skills, and inspire kids to become lifelong readers.
Enhanced book collections can help our children…
Engage with reading like never before.
Fall in love with characters, root for them, learn from them and empathize with them.
Grow up expecting to experiment with new genres and authors.
Realize that the world is endlessly fascinating, that issues are complex and can be argued from different perspectives, and that lessons from history apply today.
Grow up delighting in good writing and taking pleasure in language and humor as well as exciting plots.
Expect that combinations of books will spark ideas.
Relate to or learn from characters with diverse voices, backgrounds, experiences and points of view.
Become strong readers, writers and citizens
Our goal is to raise at least $60,000 so we can make a significant impact on our literacy program by enhancing the collections in our book rooms and classrooms. Please donate today!