Auction Links
Top Bidders
dlerner

$1,402

nsa90aba8

$1,290

bm8e071f4

$1,260

mfcc0a0ca

$1,107

bs5caade8

$340

mpe5a9abe

$320

rl4d0183d

$258

jwdfaa4f1

$250

vw212768d

$225

mv26772fe

$222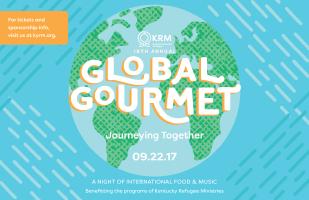 The Silent Auction for Kentucky Refugee Ministries is now LIVE!
Welcome to the silent auction page for Kentucky Refugee Ministries. The online auction will run from September 18, 2017 to September 22, 2017, with the live fundraiser, Global Gourmet, taking place on September 22, 2017. All proceeds go to Kentucky Refugee Ministries in order to support the resettlement of refugees in Louisville, KY. Auction items range from exciting travel packages to donated items for the home, all guaranteed to delight and surprise. So, tell your friends, family, community. Let the bidding begin!
Live Event Details
Fri Sep 22, 2017
6:30 PM - 10PM EDT
Mellwood Arts Center
Louisville, KY
Add to My Calendar
Get Directions
Make Your Bid to Support Kentucky Refugee Ministries!
Now is your chance to not only get all the great items you want, but to do it knowing you are helping support refugee resettlement in Kentucky and the U.S.
Kentucky Refugee Ministries, Inc. (KRM), a non-profit organization, is dedicated to providing resettlement services to refugees through faith- and agency-based co-sponsorship in order to promote self-sufficiency and successful integration into our community. KRM is committed to offering access to community resources and opportunities and to promoting awareness of diversity for the benefit of the whole community.
Our vision is -
To compassionately welcome and serve the world's displaced people.
To encourage the hope that lives within each human being by providing an atmosphere of hospitality, responsiveness, mutual respect, trust and tolerance.
To be known for our reliability, resourcefulness, partnerships and comprehensive services.
Thank you for your support of Kentucky Refugee Ministries, and for helping to make Kentucky home to our newest neighbors.