Thank you for your support! Our Holiday Auction is now Closed.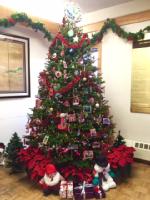 As we celebrate with Holiday Cheer, we wish to THANK YOU! It is your support for JCCCNC that makes the community here and the work we do so special.
Thank you for taking the time to Shop, Share, and Bid to reach our Holiday Auction goal.
A quick note to all of our winning bidders
Congratulations on placing your winning bid. Please allow us a few days to process the auction results and have your items ready for pick up at JCCCNC. Your winning email should be in your box shortly!
If your bid didn't win, there are so many ways to support JCCCNC!
We continually work toward making the center cheery and bright all year around. Your end of year giving helps us make this happen. Here are a few ways you can still give!
Your Time! Get Involved. Come Have Fun, volunteer, or enjoy all the great programing and events here in San Francisco Japantown.
Donate and Acknowledge a Loved One! In Rememberance, or In Honor of, it is always nice to recognize that someone special. All Tribute Donations made this winter will be published in our Spring 2016 Newsletter.
Become a Member! Received discounts to local businesses around Japantown, discounts on our programs, and enjoy our quarterly Newsletter as we share all the great happenings here at the Center.
Lastly, designate JCCCNC as your preferred Charity on purchases youre already making! Have a percentage of your daily purchases donated to the JCCCNC on your behalf. Find out more about the eScrip program and shopping online at smile.amazon.com
Thank you Again! We Wish you a VERY MERRY HOLIDAY and we can't wait to see you in the NEW YEAR!