Auction Links
Top Bidders
run100

$690

FORSECRETS

$299

jiahistory

$299

Lindajanea

$297

resolute

$281

rdcaa3efe

$269

Sonnyboy2016

$256

Grampa

$249

fultz

$226

123JAZZY

$208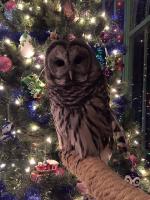 THE 2017 HOLIDAY AUCTION IS NOW CLOSED.
Thanks to everyone who made this auction a success - whether you were a corporate sponsor, donated an item, placed bids, or shared with your friends and family, you helped make it possible.
Items will be shipped to the address bidders submitted when registering for the auction with BiddingforGood. If you have alternate shipping instructions, contact Diane at diane_broadbent@bellsouth.net. All items will be shipped after credit cards are processed and should arrive before Christmas.
Broadbent Wildlife Sanctuary is a 501(c)3 nonprofit organization in Kentucky whose mission is to rescue sick, injured and orphaned wildlife throughout the state. Our staff works 365 days a year to provide care to wildlife in need, with the goal of rehabilitation and release back into their native environment. Our full time staff, including veterinarians and state and federally-licensed wildlife rehabilitators, provide medical treatment as well as loving supportive care to thousands of animals each year. Hundreds of wildlife babies are raised in our nursery and released every summer. Broadbent also serves as a safe haven and a lifelong home for abandoned or abused exotic birds and other former pets. Our Educational Ambassador animals and trainer work to teach children and adults to co-exist with wildlife and to respect all animals.
For more information on Broadbent Wildlife Sanctuary, visit www.BroadbentWildlife.org, and don't forget to check us out on FACEBOOK!
A portion of the proceeds will also benefit End Animal Suffering, Inc., in Florida, to neuter/spay and provide vet care and food to homeless pets and abused or abandoned companion animals.
Join us for our annual Christmas with the Animals at Broadbent Wildlife Sanctuary
Friday & Saturday
December 15 & 16 (5-9 PM, ET)

• Ride on people movers to see hawks, owls & tropical birds
• Enjoy holiday music
• See fabulous animal-theme light displays
• Pelly the Pelican will greet you at the door
• Photos with Santa


$10 PER CAR suggested donation to get in the gate to see the animals, lights and tour (at the gate – cash or check)

PLUS $9 per person if you would like to enjoy the buffet & refreshments ($5 for kids 12 & under) - Served by The Boy Scouts

FUN FOR ALL AGES!

Broadbent Wildlife Sanctuary - 100 Guston-Bewleyville Rd., - Guston, KY
Enter through large black iron gates with lamp posts on U.S. 60 East. For directions visit www.BroadbentWildlife.org
or call (270)547-4200