Donate Cash
Auction Links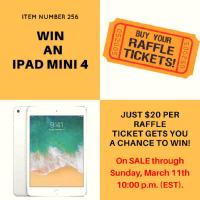 The Online Auction is closing this Sunday at 10:00 PM EST!
Let's make this the best auction yet! Bid high, bid often, and share the auction!
A Few Pointers to Get You Started
Log in and make sure your credit card information is up to date.
Bid high and bid often! Straight bid or maximum/proxy bid.
Once you place a bid or add items to your WATCH LIST you will receive bid alerts via email.
GIFT items to family, friends, or teachers. SHARE this site or specific items with friends & family.
For teacher playdates or baskets, ask others to share the cost and the fun!
Remember this is a FUNDRAISER for a non profit organization.
Bids over the item value and cash donations can be tax deductible.
Online Auction
Open now until Sunday, March 11, 2018 at 10:00 p.m. EST. All items are set to close at 10:00 p.m, but there is automatic bid extension in place to make sure Geneva Day School raises the most money possible.
Cash Donations and Other Ways to Support
Even if you don't find any items that you want to buy (which is highly unlikely!), you can still help Geneva Day School by making a direct cash donation by clicking on "Donate Cash"! You can also support the school by buying a $20 raffle ticket for an iPad or contribute $25 to help the school build an International Garden.
Item Payment and Pick-Up
Payment: Once the auction closes, you will receive an automatic email notifying you that you are the winning bidder for an item. Your payment will then be processed using the credit card you have on file in your Online Auction account.
Pick-Up: You will be able to pick up your receipt and auction item from the Geneva Day School Office after 1:00 p.m. on Wednesday, March 14, 2018. All items must be picked up on or before March 23, 2018. Please show email(s) confirming your winning bid(s) at time of pick up.
More Detailed Information
For more information on How to Register/Bid, Payment and Pick up of item(s), see Auction Rules and Bidder FAQ. You can also reach out to us via email.
The Geneva Parents Association
auction@genevadayschool.org
Make Your Bid to Support Geneva Day School!
Now is your chance to not only get all the great items you want, but to do it knowing you are supporting the Scholarship Fund for the community that encourages and nurtures your child during each school day.
Geneva Day School is a community of professional educators dedicated to providing excellent early childhood education in a nurturing environment. We support the development of each child in all growth areas and work cooperatively with students, parents, and staff to model and encourage a lifelong love of learning.