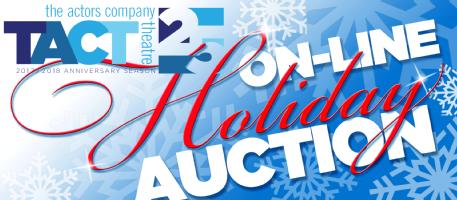 TACT/The Actors Company Theatre 2017 Winter Auction
Beginning November 29, 2017, TACT/The Actors Company Theatre will auction items ranging from hard-to-get theater and television tickets to valuable merchandise and services to raise money to fund programming for the company's 25th anniversary season.
This year's celebratory season showcases all that TACT does best with a tantalizing mix of styles and genres: four classic plays, one new comedy, and one play that's both old and new.
On the Mainstage at NYC's Theatre Row, we're presenting a new play this spring created just for TACT: Three Wise Guys, written by Scott Alan Evans and Jeffrey Couchman and based on short stories by Damon Runyon (Guys and Dolls).
In our Salon Series of concert-style readings, we're presenting four plays TACT has never performed before that showcase the talents of our extraordinary company: Holiday by Philip Barry, The Dining Room by A.R. Gurney, Laughter on the 23rd Floor by Neil Simon, and Stage Door by Edna Ferber and George S. Kaufman.
In November, TACT presented the world premiere of Noel Coward's Salute to the Brave, a play written in 1941 but never produced.
Show your support for TACT by bidding now on these fun and unique items. We thank you for your support and look forward to celebrating our 25th anniversary with you.