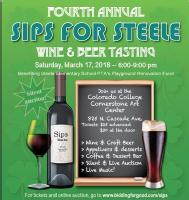 4th Annual Sips for Steele
Fundraiser and Silent Auction
Saturday, March 17
Silent Auction Bidding is open! Check back often as we are adding new items daily!
The Sips for Steele committee has gathered a wide array of over 200 amazing silent auction items including kids classes & camps, event tickets, weekend get-aways, restaurant gift cards, art, golf foursomes, spa/beauty, fitness, family fun and other special items you will love! And dont forgot those fun Classroom theme baskets, Teacher donated items and new classroom art pieces that Steele children made!
If you can't make it to Sips for Steele, you can still be there in spirit with your smartphone or computer by bidding online for auction items, make a donation, or support the Fund-a-Need section! The bidding closes for all items at the event on March 17 at 8:30pm. You dont need to be there to win but you will need to register at Bidding for Good to bid online! You can set a maximum bid at any time after the auction opens and you will be notified if you get outbid! If you are the winning bidder, you will get your items delivered or mailed to you!
The 4th annual Sips for Steele is the yearly fundraiser for Steele Elementary School PTA in the Old North End neighborhood in central Colorado Springs. The event is at the Colorado College Cornerstone Art Center with wine and craft beer tastings, appetizers & desserts donated by local restaurants, live music by Steve Weeks, and a silent and live auction. Our goal in 2018 is to raise $30,000 to be used for a major playground and outdoor education renovation in Summer 2018.
About the Steele Elementary School PTA
The Steele PTA provides funding and organizational support for our ethnically diverse, urban, downtown public District 11 elementary school. Our funding will go towards enhancing the school's ability to improve the educational experience of our children. It's up to our community to help our schools succeed where education funding has been reduced:
STEAM events including Science Night, Art Focus Day and 5th grade Shakespeare performance

Technology improvements for much needed computer upgrades, laptops and tablets for the students

Innovative classroom learning tools and furniture

Playground and other outdoor education improvements

Financial aid for in-need families to include vacation food baskets, school backpacks and supplies, breakfast and snacks during school, scholarships for school activities, emergency financial aid, etc.

Funds for classrooms and teacher continuing education and workshops

Library improvements for new materials and replacement of existing books

School activities such as After School Enrichment classes, Track and Field Day, Kid Power classes and more.
Refer your Friends and Family to Bid on Auction Items!
And please refer your friends and family to bid on our auction items! A great thing about our Bidding for Good site is that friends and family can support Steele by bidding for items in the auction and not be at the event. If they have the winning bid, they can pick it up at Steele, or we can ship the item to them (plus shipping costs). Please share our link with the Refer Friend button on the right!
Live Event Details
Sat Mar 17, 2018
6PM - 9PM MDT
Colorado College Edith Kenney Cornerstone Arts Center
825 N Cascade Ave, Colorado Springs, CO 80904
Add to My Calendar
Get Directions
Come join the Old North End community including Steele parents, alumni, friends and neighbors for fun night on St Patrick's Day!
West Coast Wine Trip focusing on wines from California and Oregon by Coaltrain

Craft Beer Tasting by a variety of local brewers including Bristol Brewing, Goat Patch Brewing Co, Pikes Peak Brewery, Paradox and more

Appetizers and desserts provided by local restaurants including Oskar Blues, Hatchcover, Mother Muffs, Picnic Basket, Cupcake Girls, Gold Star Pies and more

Live music by Steve Weeks

Online silent auction of over 200 great items

Live Auction of Classroom theme baskets, Classroom Art and more
Tickets are $25 pre-paid or $30 day-of-event and at door. Attire is Date Night on the Town!
Thanks to all of our sponsors for underwriting the costs of our event! All auction proceeds will go directly towards the Playground Improvement Fund!
Check out some of our top auction items!