Donate Cash
Auction Links
Rock the Cure for City of Hope
Online Auction & Live Event
Starting on June 5, 2018, Rock the Cure is auctioning off a number of fun and unique items in order to raise money for City of Hope. The more items we sell in our auction, the more money we will raise for our cause, so please support our cause.


Check back with us often; items being added every day!
Live Event Details
Fri Jun 22, 2018 7PM -
Sat Jun 23, 2018 10:30 PM PDT
El Rey Theater
5515 Wilshire Blvd, Los Angeles, CA 90036 (located in LA's Miracle Mile) http://www.theelrey.com/
Add to My Calendar
Get Directions
Rock The Cure: the "DECADES" show - a celebration of the music & hairstyles from the 50s till NOW performed by The Tribe at the El Rey Theatre in LA's Miracle Mile!
2 GREAT SHOWS: Friday & Saturday, June 22 and 23, 2018, 8pm (doors at 6:30pm).
The Tribe is a collective of over 40 of L.A.'s top session & touring musicians and singers who perform multimedia musical fundraising events for causes throughout Los Angeles. We invite you to be part of this unique event celebrating the music and hair fashions from the 50s till now!
PROCEEDS TO BENEFIT CITY OF HOPE.
Come share a fun-filled evening with The Tribe and featured celebrity guests from the beauty industry including Kim Vo, Sara Jones, Jim Markham, John Simpson, Christopher Dove, Alexandrea Villareal, Hosway Morbak, Jessica Warburton, Ginger Boyle, Robert Cromean & more. Silent (online) auction! WE CAN make a difference!
The Tribe's musical talent will feature: Ken Stacey & Burleigh Drummond (Ambrosia), Actor/Singer Rob Morrow (Northern Exposure), Carly Smithson (American Idol), Freebo (Bonnie Raitt) with Alice Howe, Rosemary Butler (Jackson Browne, Linda Ronstadt), Gary Griffin (Brian Wilson), John Wicks (The Records), Lamont Dozier Jr. (Motown, Rick Braun), Jeff Alan Ross (Badfinger), The Honeys (Marilyn Wilson-Rutherford & Ginger Blake), Gary Stockdale (Brian Setzer), John Pratt, Steven Goddard, Adam Daniel, Jules Galli, MJ Ultra, Strawberry Alarm Clock, poet Stephen Kalinich, Musical Director Gary Pickus (Alan Thicke), Marc Mann (Danny Elfman, ELO), Fuzzbee Morse (Bono, Peter Gabriel), plus The Tribe's backing vocalists, horn section, and more.
100% of the ticket sales will go to City of Hope
Tickets: buytickets.at/tribedecades
$100 VIP (incl. priority seating, swag bag, early entry & more)
$50 Guaranteed seating
$30 G/A ($40 at the door)
For more info: 818-727-7884 (inquire about special group rates)
www.RockTheCureLA.com
www.thetribeband.com
www.cityofhope.org

If you cannot attend, but would like to make a donation, click here: http://RockTheCureLA.com/
El Rey Theatre
5515 Wilshire Blvd, Los Angeles, CA 90036
(located in LA's Miracle Mile)
http://www.theelrey.com/
Become a Sponsor
Place your company's logo on our site that links back to your own web page and you could develop new business. We can track how often your logo is viewed and clicked to see just how many people are accessing your site.
Also you can show your support by clicking on the "Donate Items" button to contribute to our catalog.
Give a little and get a lot in return.
Whether you have 1 item or 100 to contribute, your participation is an invaluable part of our fundraising efforts. By donating an item or service directly online, you'll be helping to raise money for our organization, and you'll receive a mention on our site that can link back to your own web page.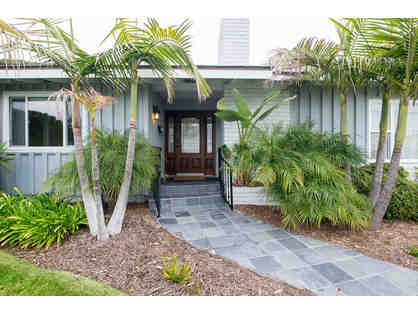 Vacation home in La Jolla for 4 nights /5 days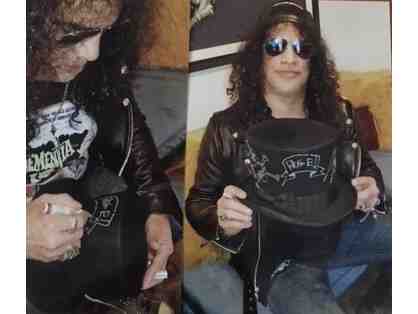 Signed Top Hat by Slash from Guns'n Roses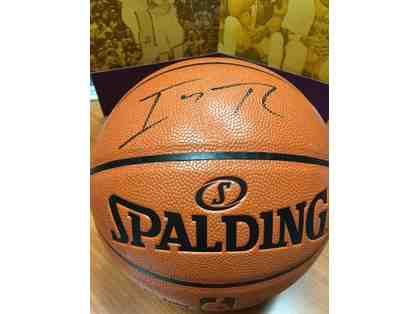 Isaiah Thomas Autographed Basketball