Just in Time for the Holidays! Pete Souza Original Photo auction.
Starting on November 28, 2018, OCCIDENTAL COLLEGE will be auctioning off a signed Pete Souza Original Photo of President Obama and Vice President Biden. Proceeds benefit the Andy Beattie '75 Endowment for Campaign Semester. The Campaign Semester Course is unique to Occidental College and provides students the opportunity to learn about political campaigns and elections through first-hand experience.

Andy, who passed away suddenly on July 27, 2014, put his Occidental degree to work by volunteering in the White House Office of Advance for over 20 years. While traveling with presidents, vice presidents and first ladies gave Andy the opportunity to participate in the political process, his most treasured memories were as a mentor. It is in this spirit the Andy Beattie '75 endowment for Campaign Semester was established. Your gifts will ensure all students of Occidental College will have the opportunity to experience the world they way he did - through volunteer service to our country.
Frame and photo dimensions are 20.25x24.25
Donate to the Andy Beattie '75 Endowment for Campaign Semester
Your gift pays tribute to Andy's beloved Occidental College and supports this unique grassroots campaign experience Give Now.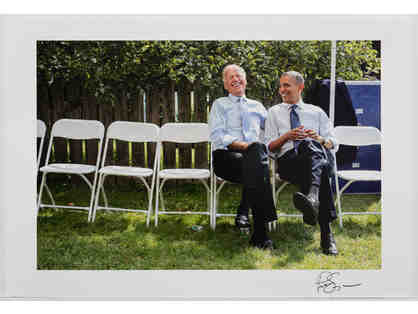 Pete Souza Original Photo of President Obama and Vice President Biden