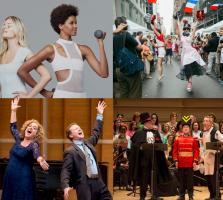 American Lyric Theater's 2018 Holiday Auction is Now Open for Bidding! Closes Friday, Dec. 14 at midnight!
Thank you for visiting our on-line auction. Your winning bids will support the work of our groundbreaking Composer Librettist Development Program - the only full time program in the country to mentor gifted operatic writers.
Among the projects your bids will support are:
"The Life and Death(s) of Alan Turing", an historical fantasia about the groundbreaking computer scientist who was persecuted because he was gay, by Justine F. Chen and David Simpatico. ALT will be in Chicago this winter for an intensive residency at Chicago Opera Theatre, during which we will produce a ten day orchestral workshop and public reading to support the writers as they prepare this exhilarating new opera for its premiere.


"Sherlock Holmes and the Case of the Fallen Giant", an operatic mash-up of classic detective stories and the magic world of fairy tales by Evan Meier and EM Lewis. This March, ALT will hold a ten-day workshop and public concert of this whimsical family-friendly opera in New York City.


"The Halloween Tree", Theo Popov and Tony Asaro's operatic adaptation of Ray Bradbury's fantasy novel that explores the origins of Halloween. Theo is currently orchestrating the opera, with a Halloween workshop planned for the fall of 2019.


The ongoing work of resident artists in the beginning stages of exciting new projects: librettists Julian Crouch, and Lila Palmer; composers Liliya Ugay and Alexandra Vrebalov; and dramaturg apprentices Hannah McDermott and Katherine Pitt.
On behalf of our resident artists, we want to sincerely thank you for your support and generosity.
WHAT IS AMERICAN LYRIC THEATER?
All the operas we love were once new, and that cycle must continue. This is why we exist. ALT is not an opera company by any traditional definition. ALT's programs focus on serving the needs of artists, developing new works, and collaborating with producing companies to help usher those works into the repertoire.