Donate Cash
Auction Links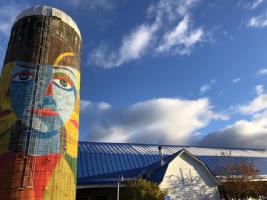 Bridge School's Online Auction is OPEN!!
This year's auction will run from November 27th to December 9th at 10 pm.
Proceeds will go to the Bridge School's Community Programming: Getting our students into the bigger world; where Bridge School's mission of nurturing children's development as inquisitive scholars and kindhearted community members can be realized.
Bridge School was established almost 40 years ago in a former dairy barn, and we are the only independent K-6 school in Middlebury, VT. Through collaborative, project-based, community-engaged learning, Bridge School cultivates children's natural curiosity, and joyful creativity. We value holistic learning, thereby fostering a 21st century learner's essential skills, knowledge and habits of mind.
Thank you to all our sponsors and donors!
We are so grateful to our Bridge School Community for donating so generously. We are very proud of the selection of items we have assembled and amazed at the creativeness and skill of the people in our network who share with us. We hope you will find a fabulous gift for a loved one, or yourself, all while supporting Bridge School.
Please share the auction with friends, family and keep your eyes on it, as there will be new items added as they come in. Hint!---bidding will get hot and heavy at 9:45 pm on Sunday the 9th, so be ready!