Donate Cash
Auction Links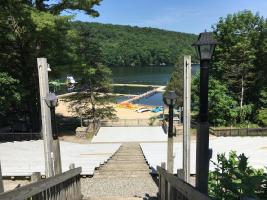 The Ramah Berkshires Online Auction is Open!
The online portion of the Ramah Berkshires 2018 Gala Auction is now open. The auction will run from November 29, 2018 to December 9, 2018, with the live event and final bidding taking place on December 9, 2018.
All proceeds go to CAMP RAMAH IN THE BERKSHIRES INC in order to support our scholarship fund -- ensuring that all children and families are able to have the magical Ramah summer experience regardless of financial limitations or family circumstances.
Tell your friends, family, community, and let the bidding begin!
Live Event Details
Buy your ticket for a chance to win the *ULTIMATE SPORTS FAN PACKAGE** raffle
Four games, Four sports, Four NY teams, with a combined value of more than $2500!!
One winner will receive:
Two (2) tickets to see the Jets play the Green Bay Packers on Sunday, Dec. 23rd (Section 126, tickets include parking)

Five (5) tickets (100s section) to see the Knicks play the Oklahoma City Thunder on Monday, Jan. 21st

Four (4) tickets to see the Rangers play the Minnesota Wild on Thursday, Feb. 21st

Four (4) tickets to see the Mets play the Atlanta Braves on Sunday, June 30
One entry for $100, and two entires for $180
All proceeds support the CRB Scholarship Fund
Winner to be selected at the CRB Gala on December 9th. You do not need to be present to enter!
Make Your Bid to Support Camp Ramah in the Berkshires Campers!
Now is your chance to not only get all the great items you want, but to do it knowing you are helping support our camp's work and mission.
Each summer we offer hundreds of thousands of dollars in financial support to hundreds of campers and families who would otherwise be unable to attend Ramah. Some reflections from camper parents on this past summer:
"My children have developed a strong Jewish identity and community from camp. I am so grateful they have the opportunity to be a part of the Ramah family."
"This summer was incredibly special for [our daughter]. It was her first time at sleep away camp and she fell in love! We look forward to a long lasting relationship with CRB. Thank you!"
"Thank you for the financial support that enabled our child to attend camp. We remain grateful for the invaluable and meaningful opportunity. Camp Ramah in the Berkshires is indeed an extension of home...a place filled with Torah, love, and laughter."
These types of reflections inspire us, and your financial support makes these experiences possible!