Auction Links
Top Bidders
bs89acadf

$632

trickytra

$600

mta6cc093

$325

sk5a3cc89

$300

vvm5015

$300

ra5a6b824

$274

StrawberryLynn

$199

bk60a7642

$140

cb2799d7c

$136

ahce96564

$125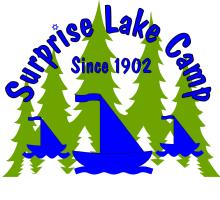 The Online Auction is Open!
The Surprise Lake Camp's Camp Casino is now open. The auction will run from December 1, 2018 to December 15, 2018, with proceeds going to Surprise Lake Camp in order to support our scholarship fund. We believe that every child should be able to attend our summer camp and that economics should not play a role in this decision. Last year, we provided over $1 million in scholarships to our campers.
Auction items are guaranteed to delight and surprise. So, tell your friends, family, community. Let the bidding begin!
Make Your Bid to Support Suprise Lake Camp's Scholarship Fund!
Now is your chance to not only get all the great items you want, but to do it knowing you are helping support our organization and mission. What is better than knowing that you can help children unplug for 4 or 8 weeks? At SLC, our campers unplug from electronics and plug in to nature - swimming in our lake or pool, hiking in the mountains around our camp and running on our ballfields.