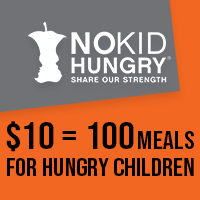 Hunter Pence No Kid Hungry Holiday Auction
No kid in America should go hungry. Yet, 1 in 6 children in America faces hunger. When kids don't get the food they need, it hurts their grades, they get sick more often, and are less likely to graduate. The good news is, there is a solution, and together we can make a difference.
Hunter has teamed up with No Kid Hungry, a national movement to end childhood hunger in America, with the goal of raising $100,000 to provide one million meals to kids throughout Northern California. With the help of Hunter's fans, we have raised nearly $70,000 thus far.
This holiday season, Hunter is hosting an online auction to continue raising funds that will go towards his overall goal. The auction will run though December 16, 2018, and all items will arrive in time for Christmas.
Help Hunter Reach His Goal of Providing 1 Million Meals!
ABOUT NO KID HUNGRY
No child should go hungry in America, but 1 in 6 kids will face hunger this year. Using proven, practical solutions, No Kid Hungry is ending childhood hunger today by ensuring that kids start the day with a nutritious breakfast, eat healthy summer meals, and families learn the skills they need to shop and cook on a budget. When we all work together, we can make sure kids get the healthy food they need. No Kid Hungry is a campaign of national anti-hunger organization Share Our Strength. For more information, please visit NoKidHungry.org. Share Our Strength is a registered 501(c)(3) private, nonprofit organization.