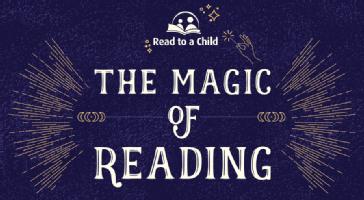 Join Read to a Child on April 11th!
A Magical Evening to Support Literacy
It is with great pleasure that we invite you to support Read to a Child Metro Detroit's 7th annual fundraiser, "The Magic of Reading", to be held on April 11, 2019. Patrons will enjoy food, spirits, dancing, a silent auction and entertainment as well as a special presentation to our Volunteer of the Year.
Sponsorships are still available. To sponsor or donate auction items, please contact Ky Lindberg at ky.lindberg@readtoachild.org.
Live Event Details
Thu Apr 11, 2019
6PM - 9PM EDT
Valentine Vodka
161 Vester Street Ferndale, MI 48220
Add to My Calendar
Get Directions
Tickets include 2 complimentary beverages, hors d'oeuvres and dessert. Early Bird tickets for $45 are available until March 28,2019 at 11:59PM!
If you can't make it to the event, please participate in the Silent Auction online! Stay tuned for more details on when the silent auction will go live. Please note, if you are outside the Metro Detroit area a separate charge will apply to ship items to you.
All proceeds from the Gala will support Read to a Child's Lunchtime Reading Program in Metro Detroit.
About Read to a Child
Read to a Child, www.readtoachild.org, is a national literacy and mentoring non-profit that fosters a love of reading, improves literacy skills, and empowers underserved children by inspiring adults to read aloud to them regularly. Research shows that reading aloud to children is the single most important activity for eventual success in reading, a key factor for success in school, work, and life. When an adult reads aloud to a child, both parties have a joyful, rewarding experience that instills a love of reading, improves literacy skills, and enhances a child's self-confidence. Read to a Child's Lunchtime Reading Program utilizes more than 1,800 volunteer mentors from over 150 socially-minded organizations who read one-on-one to more than 1,400 at-risk elementary school students in Greater Boston, Detroit, Hartford, Los Angeles and Miami.