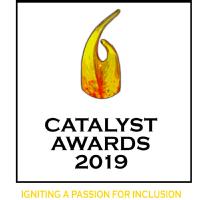 Get Your Tickets for The Arc's Catalyst Awards April 11, 5:30 p.m. at the Camden Center in Milan, Illinois and check out our auction items!
The online portion of 2019 CATALYST AWARDS, DINNER & AUCTION is now open. The auction will run from February 28, 2019 to April 11, 2019. Proceeds go to The Arc of the Quad Cities Area in order to empower people with disabilities to believe in their own unique abilities and achieve their full potential. Auction items range from exotic vacation getaways to donated items guaranteed to delight and surprise. So, tell your friends, family, community. Let the bidding begin!
Live Event Details
Thu Apr 11, 2019
6PM - 8:15 PM CDT
Camden Center
Milan, Illinois
Add to My Calendar
Get Directions
The Arc of the Quad Cities Area is igniting a passion for inclusion with the 2nd Annual Catalyst Awards, Dinner, & Auction. The Arc has a passion for inclusion and we share that passion with our honorees who have championed tirelessly for the dignity, independence, and full societal participation of all people with disabilities.
Join us for a delicious dinner, cash bar, silent auction bidding, and music by Black Hawk Jazz Band as we recognize our Catalyst Award honorees.
Make Your Bid to Support The Arc of the Quad Cities Area
Now is your chance to not only get all the great items you want but to do it knowing you are helping support The Arc and our mission to support people with disabilities live to their fullest potential. Your support will help The Arc create the programs and services people with disabilities depend on to live full and inclusive lives.