Auction Links
Top Bidders
musicrx

$457

hk78d50db

$227

Shar4

$184

jl1e24636

$181

ktobias

$152

lmd43252f

$116

waltgf13

$110

pr9013393

$90

aff15cc11

$84

Zeke04102

$74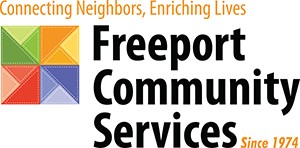 Neighbor Helping Neighbor Since 1974
Freeport Community Services (FCS) began in the 70s as a group of neighbors helping neighbors, in a room above a volunteer's garage and some of our founders, now in their 80's still volunteer today. As our communities have grown, we have too. Today we help gather resources and organize services for Freeport and Pownal, Maine.
We are a community-run, community-based organization that coordinates programs and supplies a handful of direct services to our neighbors in the towns of Freeport and Pownal, Maine. Services include a Food Pantry with essential and emergency supplies for our neighbors who need it.
We provide essential direct services, such as emergency food through a food pantry, community meals, a youth weekend BackPack program, fuel, and utility assistance, volunteer drivers for transportation needs and manage the Freeport Community Center.
We believe in neighbor helping neighbor and are a low-barrier organization. Now in our 45th year, we are proud to continue the work of our founders.

Freeport Community Services is here to
-Provide a forum for assessing community needs
-Facilitate programs to address defined needs
-Provide information and referral concerning social service or other human needs
-Help people access services
-Provide direct services when appropriate including the operation of a food pantry to provide free emergency food for people who need it in our community.
To learn more: http://www.fcsmaine.org/
We appreciate your support and please check back regularly as we are adding more items over the next few days. We've extended our auction to March 6th!