Auction Links
Top Bidders
klb948e6f

$1,617

js9d0a020

$150

jm129252f

$95

lynniealex

$75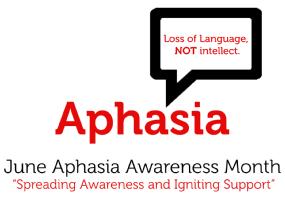 HARC's Aphasia Awareness Auction
The Houston Aphasia Recovery Center (HARC) is celebrating June's National Aphasia Awareness month. Over two million people in the United States have aphasia, but 84.5% of Americans state that they've never heard the term aphasia. This fact needs to change immediately to pave the way for better communication experiences for people living with aphasia. Please help us raise the much needed funds to continue to offer programs to the over 43,000 Houstonians living with aphasia.
Become a Sponsor for Our Musical
Join us as debut, Aphasia, Ain't No Mountain High Enough, a musical written and performed by HARC's participants on June 18, 2019 at 12:00 PM at Metropolitan Multi-Services Center at 1475 W. Gray Street. Aphasia, Ain't No Mountain High Enough shares the stories of persons with aphasia and the strength it takes to journey through life with the devastating disability of aphasia. Become a sponsor at http://www.harctx.org/happenings.php.