Donate Cash
Auction Links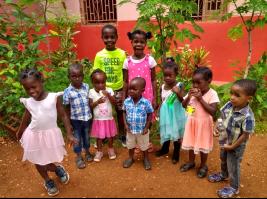 Participate in our Online Auction and be a part of
building our new mission home and a new home for the children
View our Online Auction items on October 28th, 2019. Click on "View All Items"-
100% of the bid (minus any direct costs) goes to

building our children and mission homes.
Live Event Details
Order Tickets
Sat Nov 16, 2019
6:30 PM - 11:59 PM CST
The George Theater
5420 Westheimer Houston, Tx
Add to My Calendar
Get Directions
Please plan to join us for an evening of fine food, good drinks, live music and auctions. It will be an evening of mysterious entertainment and the opportunity to learn more about A Child's Hope.
The children and families in Haiti are in need of strong christian leadership and support to help them build family structure and life skills that will make them self sustaining and the new leaders of Haiti.
Help us raise money to provide a new children's home and mission home.
Become a Sponsor
Sponsor the needs of our Haitian children and families. There are many sponsorship levels. Click on "Buy Tickets" above and it will allow you to choose a sponsorship. Or click below to let us know what you are interested in.