Top Bidders
rboerger

$96

jp802

$40

km563e71b

$39

km3b09680

$35

Koala

$35

rr07aceba

$35

acmepat

$30

mlwaxman

$30

ktsmom

$30

Alissa_Cannon

$25
The 'You Stole a Pizza my Heart!' auction will run from August 11, 2019 to August 17, 2019 ending at 6pm central time.
At Shadow Cats we love our Seniors! Six years ago we began holding special auctions that benefit both the Shadow Cats kitties and the residents of a local senior center.
August 21st is National Senior Citizens Day & we've got special plans – A Pizza Party! We're auctioning special pizza party packs and the proceeds will go to supporting our mission as well as helping to provide decorations & pizza for our beloved Park Valley Inn Health Ctr residents.
Take a look! We've created special Italian themed packs that includes tablecloths, plates & napkins and super adorable door prizes. The residents love pizza day and this event will have an added feel of dining at a pizzeria!
For each purchase, Shadow Cats receives the funds and the auction items will be delivered to Park Valley Inn. Its win/win!! PLEASE NOTE: These items will NOT be shipped directly to you; what you WILL receive is a full heart knowing you've helped support two great organizations.
The funds we receive will be used for the day to day work of caring for the cats at the Sanctuary and hundreds more in the community through our TNR and rescue work to include the One Life Fund. We rely on fundraising to maintain all programs within Shadow Cats. We receive no funding other than what we raise.
We know your bids often exceed the value of the item and we appreciate your open hearts. We understand you are not only bidding for an item, but also supporting our mission and the cats we care for. Thank you for your generosity and compassion.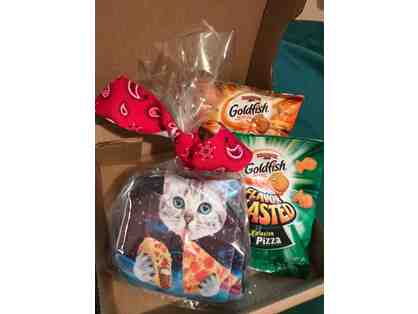 Personal Pan Prizes - Sock Door Prizes :)
Meal Deals! - Table settings.