Donate Cash
Top Bidders
bc58a9f0e

$1,563

raggs8157

$1,168

jk1e6ff3b

$1,100

MZA13

$812

ap48d32ce

$620

llb5f21af

$609

pm3f5167b

$557

rnc02ff25

$505

jsfrantz

$489

dl3416b10

$480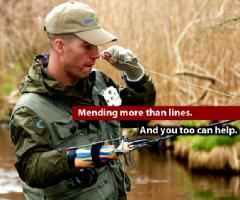 The 2019 Project Healing Waters Fly Fishing-NorCal Online Auction is NOW OPEN!
HEALING THOSE WHO SERVE
Project Healing Waters Fly Fishing, Inc. is dedicated to the physical and emotional rehabilitation of disabled active military service personnel and disabled veterans through fly fishing and associated activities including education and outings. What makes PHWFF unique is its long-term focus to work with veterans – we try to be their coach, mentor, companion, and friend on their journey of healing.
Funds raised here will be used to enable our Northern California (NorCal) veterans to build fly rods, tie flies, and go on fly-fishing trips. Auction items range from vacation getaways to sports and entertainment tickets, golf foursomes, dining spots, collectibles, and adrenalin adventures. So, tell your friends, family, and community. Let the bidding begin!
* Physical items will be available for pickup in San Francisco East Bay after Thanksgiving, or shipping can be arranged at an additional cost to buyer. Certificates available for pickup in San Francisco East Bay or will be mailed to buyer within two weeks following close of auction.
Make Your Bid to Support Project Healing Waters NorCal
Don't pass up this chance to bid on these great items – for yourself or as a great gift. Use you PC, tablet, or mobile phone to bid. Not only do you get a great gift, you are supporting a great cause.
For Cash Donations – simply click the one of the donate cash options on this screen if you want to use a credit card. For checks:
Make the check out to: Project Healing Waters Fly Fishing, Martinez Program
Mail the check to:
Project Healing Waters Fly Fishing, Inc.
P.O. Box 695
La Plata, MD 20646



The Healing Waters program - Our volunteers teach fly fishing, casting, tying and rod building classes. Fly fishing involves mental focus, science and art, camaraderie and beautiful surroundings. All provide healing for veterans!
Give a little and get a lot in return.
As an auction item(s) donor, you will benefit in multiple ways: contribution to a very worthy cause - rehabilitation of wounded/disabled vets and visibility to thousands of Northern California and national bidders.
Here's a Sample of the Great Items in our Auction