Featured Sponsors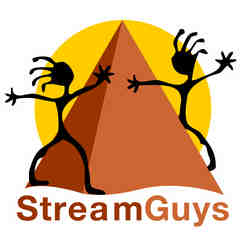 StreamGuys
Donate Cash
Auction Links
KEET Auction November 18 -21 LIVE at 7:00pm (PT) WATCH NOW:
https://www.keet.org/support/auction/livestream/
CALL (707) 445-0811 to bid.
Monday Nov. 18 Schedule
Taco Loco gift card
Spotlight Video gift basket with gift card
Papa Murphy's Take and Bake 1 gift basket, with pizza peel
Ramones $35 g/c plus 2 bags of Ramone's Coffee
Lighthouse Grill gift card
The UPS Store $40 G/C
Scrapper's Edge gift card

Ferndale Arts Gallery Framed artwork by Barbara Davis
Friends of the Dunes gift basket with dune guides
Surfside Sips 2 sets of multiple reusable glass straws
Many Hands Gallery Humboldt Candle Variety Pack
Renner Petroleum gift card
Lan Su Chinese Garden gift card
Eureka Symphony 1 pair of tickets

Old Town Antique Lighting 2 $50 gift cards
SCRAP Humboldt Volunteer Power Pack "Vintage"
Tulip Perfume gift bag
Little Japan 2 bowl set & 6 bowl set
Little Shop of Hers gift card
Hair Unlimited By David Pryor G/C's 35$
Finnish Country Sauna & Tubs (2) 10 pass cards

Castleware Baby gift certificate
Bounce-A-Palooza gift card
Arcata Core Pilates $90 gift card
Akasha gift card
CartriCharge gift card
Ferndale Tech $100 gift card
Orchids For The People $50 Gift Card

Tetrault Tire Service gift card
Premier Oil Change gift card
Harper Motors Mustang Watch
Eureka Car Stereo car stereos
Hummel Tire gift bag
Ken's Auto Parts gift card

Almquist Lumber Company gift card
Barry Smith Construction gift card
Pierson Building Center $100 gift card and a hat
Eureka Art and Frame Co. gift card
Restif Cleaning Service gift card
Beneficial Living Center gift card

Ash Beads gift bag
Arcata Community Pool gift card
Dell'Arte 10 show pass plus duffle bag
Wildwood Music Djembe Drum
Eureka Music School Music lessons
Eureka Symphony 1 pair of tix

Lots 4 Tots Plus The Clothing gift certificates
SCRAP Humboldt Sewing Basket
Eureka Fabrics sewing classes for a year
Hotel Arcata gift card
Six Rivers Optical 2 gift cards $50/ea
Eureka Theater 1 year's worth of tickets

Arcata Exchange Organic Cotton Sheets - King Size
Mad Metals set of plates and plates stand
Ray's Old Town Auto & Muffler oil change and brake inspection
Sun Valley Group a bunch of flowers a month for 1-year.
Ferndale Repertory Theatre 2 tix to "Matilda" on 12/14
Greenlot Nursery $50 towards succulents and roses

Finnish Country Sauna & Tubs (2) 10 pass cards
Humboldt County Fair 4 tix - ice skating rink and Hum Co Fair shirts
SCRAP Humboldt Scrapbook Princess Scrapbooking Basket
Redwood Raks Belly Dancing G/C dance classes 45$
North Coast Repertory Theatre Four Tickets valued at 80$
Headies Pizza & Pour 1 gift card for 50$

SCRAP Humboldt Baby Gift Basket
Sugarfoot and Co gift card
Holly Yashi $100 gift card
Margaret Draper, Attorney at Law 1 hr estate planning consultation
Picky Picky Picky Stanley Bottle - Ultra Thermos
Hole in the Wall $75 in gift cards for Eureka location

Sarah Van Wesep gift card for MAT Muscle Activation Therapy
Renaissance Computing gift card plus mouse pad
Upright Movement $60 voucher
Bittersweet: Slice of Humboldt Pie $50 gift card
North Coast Growers Assoc. gift card
North Coast Chiropractic Spinal Tune Up
Live Event Details
November 18 - 21
Live at 7:00pm (PT) on KEET-HD and KEET.ORG
Volunteers will contact the winning bidders each night to confirm and provide more information on how to pick up and pay for items.
Thank you for supporting Public Broadcasting!
Hundreds of businesses donate items to KEET-TV's longest-running fundraiser, the LIVE televised auction. Donating to the auction is a great way to support KEET-TV and put your business in the spotlight. KEET-TV's 2019 Fall Auction is LIVE November 18 - 21 at 7:00 PM (PT) on KEET-TV and KEET.ORG.
Our goal is to raise $13,000. The funds will go toward new projects, like KEET's North Coast Cuisine and Live from the Old Steeple.
Watch the live auction on KEET-TV or KEET.ORG on November 18 - 21 at 7:00 PM (PT), and call 707-445-0811 early and often to place your bid of support for KEET-TV.
Thank you very much to the hundreds of North Coast businesses and artists who donated their talents and treasures to the KEET auction, and a special thanks to the caterers who prepared and delivered delicious dinners for our volunteer crew each night. We appreciate you!