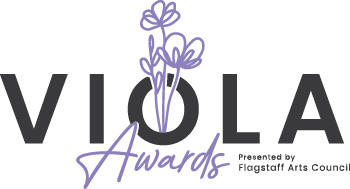 The Online Auction for the 12th Annual Viola Awards is Now Open! Let the Bidding Begin!
The online portion of 12th Annual Viola Awards is now open. The auction will run from February 15, 2020 to March 7, 2020, with the live event taking place on March 7, 2020. Mobil Bidding will continue during the live event. Proceeds go to Flagstaff Arts Council in order to support the Flagstaff Arts Council's mission to promote, stengthen and advocate for the arts in our community.
Live Event Details
The 12th annual Viola Awards will be held at High Country Conference Center Saturday, March 7, 2020. Cocktail Hour 5 pm. Dinner & Awards 6 – 9 pm.
The Viola Awards are Flagstaff's Oscars for the arts and sciences community. Celebrating excellence in the arts and sciences, the Viola Awards recognize artists, educators, organizations and leaders who make positive contributions to the arts and sciences in Flagstaff. Over 550 people attend the gala event to celebrate and support these amazing folks.
Make Your Bid to Support the Flagstaff Arts Council!
Now is your chance to not only get all the great items you want, but to do it knowing you are helping support art, science, and culture in Flagstaff.