The Online Auction is Open!
The Flying Hearts by Artist Romero Britto is now open. The auction will run from May 15, 2020 to May 30, 2020, with proceeds going to EHLERS DANLOS SOCIETY.
The Ehlers-Danlos Society is a global community of individuals, caregivers, healthcare professionals, and supporters, dedicated to saving and improving the lives of those affected by the Ehlers-Danlos syndromes (EDS), hypermobility spectrum disorders (HSD), and related conditions.
We are proudly working to provide global learning conferences, collaborative research and education initiatives, awareness campaigns, advocacy, community-building, and care for the EDS and HSD population: Giving HOPE to all those whose lives are affected by EDS and HSD.
Auction item includes a beautiful painting by Romero Britto that is guaranteed to delight and surprise. So, tell your friends, family, community. Let the bidding begin!
Make Your Bid to Support The Ehlers Danlos Society!
Now is your chance to not only get this great item you want, but to do it knowing you are helping support our organization and mission.
Headquartered in New York, NY, The Ehlers-Danlos Society is a registered 501c3 nonprofit organization in the United States and a registered charity in the United Kingdom.
The Ehlers-Danlos Society was originally established as a non-profit organization in the USA in 1985 as the Ehlers-Danlos National Foundation (EDNF) by Nancy Hanna Rogowski (1957–1995). The Ehlers-Danlos National Foundation (EDNF) filled a deep void for patients living with one of the most misunderstood and underdiagnosed syndromes in history. EDNF grew from one woman's tireless efforts to find others with whom to share emotional support, into a vital information link to and from the medical community. Often existing on a shoestring, the impacts of EDNF's contributions to the advancement of Ehlers-Danlos research, patient support, and public advocacy, have been felt around the world.
From the industriousness of Nancy Rogowski's quest to learn more and to spark hope in others—to the volunteer efforts, initiative, and support of thousands to transform our understanding of Ehlers-Danlos in its many, often dangerous forms—The Ehlers-Danlos Society emerged in May 2016 as the very first truly international organization devoted entirely to global research and the support, advocacy, and advancement of Ehlers-Danlos patients, caregivers, and medical professionals.
Be the lucky owner of this beautiful Flying Hearts 16x20 mixed media original by Romero Britto!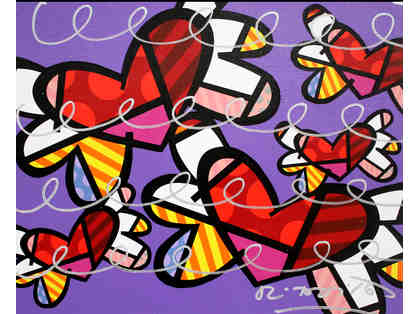 Flying Hearts by Artist Romero Britto