Top Bidders
donvoorheis

$901

kj9262b55

$800

hveab852a

$250

thbb3673d

$245

js2a26b22

$170

jme6477

$132

gw3951418

$121

sf252c313

$115

pk7bdf1cd

$110

dv44d67d7

$102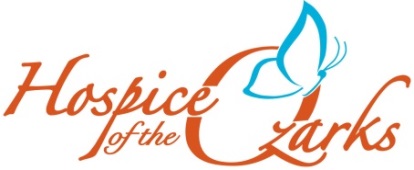 Bid on our Auction or Click "Donate Now" button on right to make a direct donation on our website! Your support is greatly appreciated!!!
Watch our kick-off video on www.hospiceoftheozarks.org starting Oct, 17th at 7pm to hear our Executive Director Greg Wood guide you through our year at Hospice of the Ozarks and tour of our new administrative and warehouse building along with Elaine Essary and her event team discussing our auction right here on Bidding for Good. This video will run the entire three days of the auction. Below are the specific URL's for our auction: 60 plus great items to bid on!
Web: https://www.biddingforgood.com/hospiceofozarks

Mobile: https://bforg.com/hospiceofozarks

We want to thank you for joiningng us today and for your generous support. We could not do what we do with you! It allows us to continue our mission: To improve the quality of life for individuals and their families in the last phases of an incurable illness and in times of grief.
Another way to donate is with our campaign of $20 for 2020. Donate on-line at our website.
You are making a difference in the lives of our patients and families....