Links
Top Bidders
USDguy99

$47

bse4cb497

$30

MrsTrump

$15
SPECIAL OLYMPICS SOUTH DAKOTA INC is auctioning off items online for the first time!
WELCOME to the online Truck Convoy auction! Items will be available up until October 1!
Items may be added, so check-in for updated goodies! All proceeds benefit the Truck Convoy for Special Olympics South Dakota.
WHAT IS THE TRUCK CONVOY?
The Truck Convoy is a celebration of the trucking industry and its support for Special Olympics. What started as a local event in Florida in 2001, the event has evolved into an international movement with Convoys in over 24 states and 4 provinces annually.
The South Dakota Convoy began in Sioux Falls and Rapid City in 2003 with an event being held in both locations for the first 2 years. In 2005, Sioux Falls continued on and has been going strong ever since. In 2014, the Rapid City Convoy was restarted and is now growing as strong as ever. The South Dakota Convoys, since 2003, have had a total of 1,971 trucks involved and have raised over $729,000 for the South Dakota Law Enforcement Torch Run for Special Olympics.

Show your support by clicking on the "Donate Items" button to contribute to our catalog.
WHO IS SPECIAL OLYMPICS SOUTH DAKOTA?
The Mission of Special Olympics South Dakota is to provide year-round sports training and athletic competition in a variety of Olympic-type sports for children (8 years and older) and adults with intellectual disabilities, giving them continuing opportunities to develop physical fitness, demonstrate courage, experience joy and participate in a sharing of gifts, skills, and friendship with their families, other Special Olympics athletes, and the community.

Give a little and get a lot in return.
Whether you have 1 item or 100 to contribute, your participation is an invaluable part of our fundraising efforts. By donating an item or service directly online, you'll be helping to raise money for our organization, and you'll receive a mention on our site that can link back to your own web page.
Become a Sponsor
Place your company's logo on our site that links back to your own web page and you could develop new business. We can track how often your logo is viewed and clicked to see just how many people are accessing your site.
Featured Items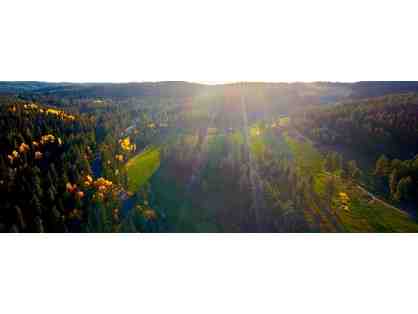 2 - Gift Certifcates to Lead, SD Country Club!