Featured Sponsor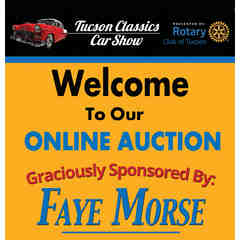 Donate Cash
Auction Links
Top Bidders
lb3b2abb4

$2,187

rogernjeri

$1,395

jz002be79

$800

johncpatterson

$700

dbd1d3439

$600

ldc06c870

$375

BuyingForGood

$335

ww567f229

$275

MARYPRYJDR

$255

amd9a6ad6

$235
Let the Bidding Begin!

The Classics Car Show Online Auction is now open with close to 200 items to bid on. The auction will run from September 16, 2020 to October 16, 2020 at 8:00 p.m. (MST), with proceeds going to the ROTARY CLUB OF TUCSON FOUNDATION and its designated charities.
Auction items range from vacation/staycation getaways to donated items guaranteed to delight and surprise. Some of the items that are special to our auction include a model car collection, various types of art, sports memorabilia, travel, jewelry, wine/spirits, golf, unique experiences and attractions, and much more.
Featured Items at the bottom of this page will be switched every week.
Some new items will be added over the next few weeks so keep checking us out. AND, tell your friends, family, community by using the social media buttons on items you think they might like to bid on. Let the bidding begin!
Helpful Tips about the Auction:
Click "VIEW ALL ITEMS" to explore the almost 200 items we have to offer. Search the whole list or explore by categories or search by key word(s).
Be sure to "REGISTER TO BID" so you'll have a login email and password for easy SIGN IN later.
You'll need to add your credit card in order to start bidding.
If you want to track items of interest, you can ADD them to "MY ITEMS".
You can receive email or text notifications if someone has bid more than your top bid so you can consider raising your bid.
Some items have a BUY IT NOW price if you want to be sure you get it.
If you DONATE NOW or DONATE CASH, you will help our charities and get a receipt from our 501c3 Rotary Club of Tucson Foundation.
If you click EMAIL UPDATES, you'll get news of major additions/deadlines.
Please REFER FRIENDS to check out the great auction items
After the Auction Closes on Friday, Oct. 16:
Items will be awarded to the highest bidder at 8:00 p.m on Fri., Oct. 16
Email notifications will be sent to winning bidders with the Tucson auction address where they can come and pick up their items on either Sat., Oct. 17 between 10 AM to 5 PM or Sun, Oct. 18. between 10AM and 3 PM.
Winners who prefer to pay shipping to have items delivered can email us and we'll contact them about shipping costs.
Gift certificates will be mailed to winning bidders at no cost.

For bidders who cannot pickup items that weekend, we'll work out other arrangements.



Support the Rotary Club of Tucson and its designated charities
Now is your chance to not only get all the great items you want, but to do it knowing you are helping support the Rotary Club of Tucson Foundation which has a history of making a positive difference in our city, our country and our world!
ALL Auction and Raffle PROCEEDS will go to our designated charities: MAKE WAY FOR BOOKS, helping kids and families read to succeed, and PIMA JTED's Innovative Learning Center, training for the jobs of tomorrow today. Click HERE for more info.
Buy Raffle Tickets ... CLICK HERE
With the postponement of the Car Show, we are transitioning to a raffle fundraiser with an online auction. Tickets are only $5 for your chance to win one of our great prizes. Raffle only for Arizona Residents and those in Arizona at time of purchase who are at least 18 years of age. Raffle winners will be announced on Sat., Oct. 17 at 3:30 p.m.
This year's Raffle Prizes include:
1. Grand Prize 2007 Corvette or $15,000
2. $3,000 Shopping Spree from Sam Levitz Furniture, Ashley HomeStores, Sam's Outlet or The Gallery at Levitz
3. $2,500 Cash from Wellspring Financial Partners
4. $2,000 for New Appliances from Tucson Appliance Company
5. $750 Massage Package from Tucson Family Wellness
6. $500 Car Care Package from Jack Furrier.