Donate Cash
Auction Links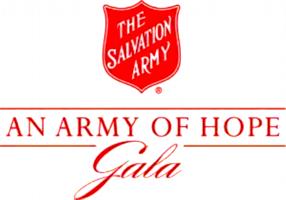 The Salvation Army's 3rd Annual An Army of Hope Gala going Live Tonight at 7:00 pm!
Auction is Live and ready for your Bid!
The Salvation Army Charleston Area Command is auctioning off a number of fun and unique items to raise money for The Salvation Army's year-round programming. Auction is LIVE NOW, you bid by clicking on the "View Items" button. Auction will end on Thursday, September 17, 2020 at 8:00 pm. Keep checking your items, some items are really popular! All winning bids will also receive a copy of the book "Love Works" by Joel Manby.
The Virtual Gala will begin tonight, September 17, 2020 at 7:00 pm. Watch live as we hear from special guest speaker Joel Manby, former CEO of SeaWorld, Nation Salvation Army Advisory Board Member and author of "Love Works: Seven Timeless Principles for Effective Leaders". Witness the presentation of the William Booth Award to long time supporter and friend of The Salvation Army. (You have to watch to find out who it is!) This is the highest award for a volunteer in The Salvation Army and is only the second time it has been given to someone in West Virginia. Also hear how the Boys & Girls Club helped former member Calesha Williamson build her dream for a bright future, and achieve that dream. To view tonight, simply click on the link below in the Live Event section.
You can still register to gain access to this virtual event and place your bids. You can also show your support by clicking on the "Donate Now" button to give a monetary donation to help support all the great programs that will be highlighted during the live event. Or view the Fund The Need options in the bidding line up.

Year-Round Programming Highlights
Boys & Girls Club in Charleston & St Albans help to provide a safe haven for at risk youth between school and home. While providing mentoring, tutoring, STEM programming and access to hot meals, the club encourages children to dream and that those dreams are attainable.
Emergency Services helps to provide basic needs for those in our seven county service area. Providing food, assistance with medications, clothing, utility assistance and hygiene items: families, homeless individuals or anyone in need can find help when it is needed.
Christmas Assistance for Food/Toys, homelss warming shelters, disaster services, hot meals and more are a few of the resources available when there is a need.
We thank you for your support in helping to provide hope for so many of the lost, lonely and less fortunate in our community. We hope you enjoy An Army of Gala: A Virtual Event! May God Bless You!
Live Event Details
An Army of Hope Gala features guest speaker Joel Manby, former CEO for SeaWorld, Author and National Salvation Army Advisory Board member. Special highlight spot on former Boys & Girls Club member Caleasha Williamson. Special presentation of the William Booth award to long time supporter of The Salvation Army. Plus a virtual/live auction for some fantastic items.
Registering allows you access to the live event plus a chance to preview and bid on all auction items the days leading up the live broadcast.
Thursday, September 17, 2020 at 7:00 pm, your link to view the Virtual Gala is here------->> https://salvationarmycharlestonwv.org/gala/
Follow the link and enjoy!
I't Not To Late to Become a Sponsor
Place your company's logo on our site that links back to your own web page and you could develop new business. We can track how often your logo is viewed and clicked to see just how many people are accessing your site. For a donation of $1,000 you can help sponsor the great programs of The Salvation Army. Help make a difference.