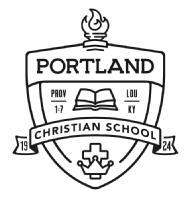 The Portland Christian School PTF Online Auction in now LIVE!!
The online portion of Portland Christian School PTF Silent Auction is now open. The auction will run from September 21, 2020 to September 24, 2020 at 8pm.
The live streamed event will take place on September 24, 2020 at 7pm. Proceeds go to PORTLAND CHRISTIAN SCHOOL SYSTEM in order to support Christian education. Auction items range from exciting vacation getaways to exceptional items guaranteed to delight and inspire.
Tell your friends, family, community. Let the bidding begin!
Help us make a Difference!
Portland Christian School has chosen to serve every student, with few exceptions, who applies for admittance whether in the inner city or the outskirts of Louisville. This is the choice PCS has made in determining the best way to serve and those who God sends to PCS. Because of our historical roots in the West End of Louisville, PCS is one of the few Christian schools that continues to serve the inner city while also serving the eastern Jefferson County community.
Portland Christian's student body is made up of students from all geographic areas and different Christian denominations. PCS does require faithful service and attendance in the family's home church. Portland's curriculum includes a Bible class every day, either in the classroom setting or as a chapel program. The core values set by the school board stress this as partner to the academic growth of our students.
Winning Items may be picked up between the hours of 11am-2pm, beginning tomorrow at:
Portland Christian School - Admin Building
8509 Westport Rd
Louisville, KY 40242
Alternate pickup and delivery options made be coordinated by emailing ptf@portlandchristian.org.
Live Event Details
Join us and stream an inspirational message from our guest speaker Bob Russell.
Make Your Bid to Support Portland Christian School!
Now is your chance to not only get all the great items you want, but to do it knowing you are helping support our organization and mission.
Auction Details:
The Online Auction runs from September 21 (8am) to September, 24 (8pm).

The auction will close promptly at 8pm on September 24.

Winning bidders will be notified via email. Please make sure that your email and contact information are correct when you sign up for bidding.
All auction items, unless otherwise noted on the item page, will be a local pickup in the Louisville area.
Please direct questions about alternate pickup or shipping to: ptf@portlandchristian.org