Donate Cash
Auction Links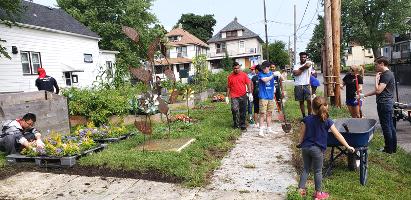 Grassroots Gardens of WNY's 6th Annual Pie Raffle
Keep your eyes on the pies.
Starting on November 1, 2020, Grassroots Gardens WNY will be launching our first ever online Pie Raffle. We'll be auctioning off the same great pies we'd usually have at our annual live fundraiser - this time just online! You'll have the chance to bid on delicious pies to take home for Thanksgiving, all the while helping to raise money for our Spring 2021 season.
Due to COVID-19, we will be following strict safety precautions, including only accepting and auctioning off pies made by commercial bakers. Items are noted regarding pickup or delivery. Most auction winners will receive a voucher or gift certificate to pick up their pie directly from the affiliated baker. Some pies will be delivered by GGWNY staff after the auction.
Please note that we want all of our supporters to be able to participate, so if you have transportation needs, GGWNY is happy to pick up your pie and deliver it to you.

Give a little and get a lot in return.
Your entrance fee also includes access to our live online event on November 10th, 2020 from 7-8pm. Join us on Zoom to find out who the auction winners are and to celebrate our 25th anniversary with us.
We are holding 5 delicious pies for LIVE AUCTION at the event!
We'll be giving out some special awards to our community champions for change and ending the evening with a look back at 25 years of community gardens in Buffalo-Niagara.
All proceeds from the auction and virtual event will go to support the purchase of seedlings and soil for our 100+ community gardens in 2021.
Live Event Details
Join us on Zoom to learn who is taking home the pies, celebrate our 25th anniversary and honor our community gardeners and our Community Champions for Change. A handful of Specialty Pies will also be auctioned off live.
Become a Sponsor
We are grateful to our corporate and community partners who made this event possible. If you'd like to co-sponsor Pie Raffle, please contact director@grassrootsgardens.org
Join us at our Live Auction and Pie Raffle Event on November 10th from 7-8pm for these featured items which you can only bid on during the event.