Donate Cash
Auction Links
Top Bidders
mfr40

$1,500

sk979a1a7

$825

Kyburz_Family

$700

dontknowme

$559

NYDEMA

$365

fc900dbb0

$355

sl6f04b09

$300

Whathaveidone

$298

ktdac6e53

$285

km4705120

$260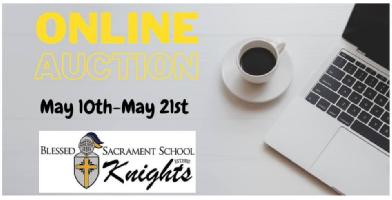 Blessed Sacrament School - Mini Online Auction
Starting on May 10, 2021, Blessed Sacrament School will be auctioning off a number of fun and unique items to bid on to raise money for our school. As we continue to celebrate our 85th year, all donations received will go towards providing excellence in Catholic education. Online donations are always accepted and appreciated!
Contact our Director of Advancement, Beth Fitzgerald, to discuss how you can support our school!
Beth Fitzgerald
Advancement@bssknights.org
(336)570-0019 x215
Become a Sponsor
Place your company's logo on our site that links back to your own web page and you could develop new business. We can track how often your logo is viewed and clicked to see just how many people are accessing your site.