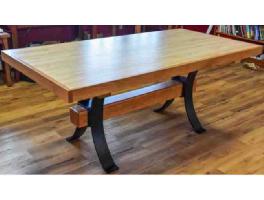 Welcome to Lyndon Institute's Online Auction!
To bid on the T.N. Vail Bowling Alley Table, click "View all items"
To learn more about the history of this table, please read the article below that was published in our most recent Viking Voice.
Changing Lanes: Reclaiming a Piece of Lyndon History
By David Stahler Jr.
Some treasures are hidden in plain sight. We pass by them everyday, unaware of their value or their history, only to eventually discover that beneath the veneer of time or use or simply our own obliviousness lies a gem that with just a little bit of polish can shine again.
Lyndon Institute recently uncovered its own hidden gem and with the help of alum and local master cabinet maker David Patoine, turned trash into treasure when it took an old, beat-up workbench located in its technical centers woodshop and converted it into two beautiful tables.
But these tables are special for another reason besides their beauty, because the workbench was not any old slab of wood but rather the lane of a bowling alley believed to have once lived in T. N. Vail's mansion up on the hill above LI on the site of what is now NVU Lyndon.
Its easy to see why the bench top would have been overlooked. Before Patoine got to work, its grimey and stained surface, beaten and nicked, was hardly recognizable as a bowling alley lane. In fact, it barely missed the burn pile about five years ago when Jerry Leonard, who was teaching woodshop at the time, saved it from a fiery fate.
"The welding teacher next door mentioned one day that she had this enormous chunk of wood that had been sitting in a dusty corner of the welding shop for who knows how many years. She wanted it out of the shop and was going to give it away to be cut up and burned," Leonard said. "I took a look at it and thought it seemed too valuable to toss out."
The first challenge was moving it. Leonard and his woodworking class calculated the piece at nearly eighteen feet long, four feet wide, and four inches thick, composed of strips of hard maple expertly joined together weighed over 450 pounds. "It took about ten of us to lift it and carry it next door to the True Building."
Once there, Leonard put it into service as a benchtop in the woodshop. But as time went on, he kept thinking about it and wondering. Having read some of the local history about Vail's mansion up on the hill (complete with its own private bowling alley) and knowing Vail the founder of AT&T who also had a hand in establishing Lyndon Institute had a strong connection to school, he began asking around. No other bowling alley had been dismantled in the area. And according to Leonard, many of Vail?s artifacts and bits and pieces of the mansion, from windows to metal railings, had migrated onto LI campus and into town years ago. It seemed hard to believe that this old strip of lane could have come from anywhere other than Vail's manor.
I consulted retired LI teacher and local historian Chris Raymond about the artifact. Could the piece have been salvaged when the state tore down Vail's mansion in the 1970s to replace it with a collection of new, more modern campus buildings? "Maybe,"he said. "But it's more likely to have happened in the 1950s when the manor was converted into a college and Lyndon Institute moved its 'normal school' for teacher training up the hill from its main campus." In other words, the lane may very well have been collecting dust at LI for nearly 70 years.
The lane's fate took a turn last fall when Rick Angell, Director of Ancillary Programs at LI, and a skilled hobbyist furniture maker himsel received an email from Melissa Hall, Director of Development. The school was looking for a new table to grace Gateway Cottage, a recently restored home on campus that served as the headmaster's house and a gathering place for important events. Knowing of Angell's interest in furniture design, Hall asked if he'd be interested in helping craft something. Angell thought it would be nice to incorporate elements from the school's history into its design, and so the pair began to search around campus for potential artifacts.
Talking about the project one day, they were overheard by Rob Heath, an alum and long-time employee of the school who was working with Leonard in the woodshop. He remembered the old bench Leonard had spared and steered them toward it. Angell realized right away that it was the missing piece he'd been looking for.
Angell also quickly realized that the size of the job was going to require some special tools. So he turned to one of the region's most skilled master craftsmen, David Patoine, owner of Calendar Brook Cabinetry in St. Johnsbury, for help. For Patoine, a 1977 graduate of Lyndon Institute who got his start as a cabinet maker studying with Bob Jackson in the school's building trades program, it became an opportunity to reconnect with his own roots with the school.
It took a crew of men to remove the benchtop from the True Building and transport it to Patoine's shop. From there, Patoine went to work, cutting the piece down into two six-foot sections to create a pair of matching tables, trimming the tabletops? edges with a cherry border, and sanding and finishing the surfaces to restore them to their former glory. Angell found some elegant ironwork legs, which they joined with cherry trestles to match the tabletops' trim.
"The piece had loosened up quite a bit from age, so the first thing we had to do was clamp it together to tighten it up and add some cleats along the bottom," Patoine said. "I think it's pretty cool that it came from Vail's mansion. I had a lot of people come through the shop here when I was working on it, and everyone would get excited when they heard the story."
Now, an original piece of T. N. Vail's manor, and a piece of Lyndon history, resides in Gateway Cottage, and a surface that likely once entertained one of LI's founders and his illustrious guests, possibly even his friend and regular visitor President Theodore Roosevelt, will now entertain a new generation in a very different way. As for the table's twin, the school plans to auction it off this spring to raise money for the school. Soon, one lucky winner will have their own piece of Lyndon history to enjoy.
For Angell and Leonard, the joy of the project comes from knowing that a piece of neglected and nearly discarded material will now serve a higher purpose. As Angell said, "It's always nice when something has a chance to come full circle."