Auction Links
Top Bidders
KBHarrison

$2,270

eocd4ae7a

$1,650

JKHarrison

$1,188

cvbe1191a

$946

jsa6e13fb

$902

jc9627eb2

$845

nhf7a16bf

$800

kk55d1298

$779

kka9c2102

$730

eg9577006

$600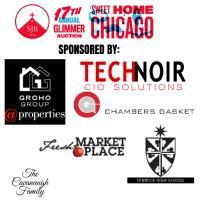 Welcome, SJB and Friends of SJB to our 17th Annual Glimmer Auction!
SWEET HOME CHICAGO! What a year it's been for us all?! And for most of us, it was spent largely at home. Hence our celebration is centered on our home, the home of SJB, and the greatest city of them all - CHICAGO. Enjoy our online auction, running through June 12th, and join us if you can for our kickoff Courtyard Social on June 5th at 6pm!
SJB SWEET HOME CHICAGO PLAYLIST!
Enjoy some Chicago theme tunes while you check out our online auction) or simply DONATE NOW!