Live Event
Sun Oct 17, 2021
4PM - 8PM MST
Top Bidders
janeburtnett

$1,500

meems28

$875

lrogers64

$840

Realitymaven

$800

ml5ac21b9

$750

ss4f67b76

$590

KLeader

$325

dhallmarkmd

$313

lb3b2abb4

$310

scott3323

$300
2021 Friends of Saguaro National Park Online Auction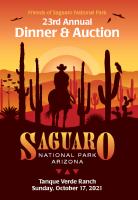 The 23rd Annual Dinner & Auction to benefit Saguaro National Park will take place on Sunday, October 17th. This years event will recognize and celebrate the amazing contributions of our loyal donors, committed volunteers and support from our corporate and community partners- who help fulfill our mission every day to help protect wildlife and habitat, preserve cultural resources, promote environmental education, improve recreational trails, enhance visitor experiences, and build environmental stewardship at Saguaro National Park.
We hope you'll join us in recognizing and celebration these amazing contributions from our supporters in the Cottonwood Grove at Tanque Verde Ranch on Sunday, October 17th. Tickets are just $100 per person; reserve your place(s) by October 8th online by using the "donate" button on our website www.friendsofsaguaro.org. Simply enter in the total ticket cost and in the "dedication" box enter "auction tickets and the name(s) of the attendees."
All of the funds raised will be directed to supporting programs and projects at Saguaro National Park.