Auction Links
Top Bidders
ce3593716

$98

naa50adb1

$91

lbae6ad9b

$70

jo5aba6f8

$55

ay5d80428

$50

mla97e371

$25

kf77f2a4a

$15

mp7bfa658

$15

BarbGG

$13

jb63b0020

$12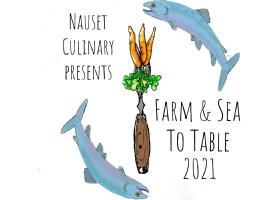 NAUSET CULINARY FARM & SEA-TO-TABLE ORPHANS & NEWCOMERS AUCTION! ~ Please take a peek!
NAUSET CULINARY ARTS PROGRAM ~
We just closed out our annual Farm & Sea-To-Table Auction --- BUT --- we had a few orphans remaining, a few items without bids and a few great new items donated after we closed. SOOOoooo... Since we fell a bit short of our goal, we will be offering these items in hopes of getting closer to it!
We broke apart a couple of packages into single items and lowered opening bid and reserve amounts in hopes of making these items more appealing to more of you! You will also see several levels of donation opportunities to take advantage of. We will send you specific sets of our favorite recipes as a thank you for your support!
The Orphans & Newcomers Farm & Sea-To-Table Auction is now open until Sunday evening, October 17th. We invite you to take a peek!
If you have any questions, please contact me at: andersonn@nausetschools.org
Thank you!
Norma Jean Anderson, Culinary Arts Instructor, Nauset Regional High School
WHY DO WE HOLD THIS FUNDRAISER?
The Real World Experience - Our Culinary Arts program continues to work towards creating a program that will offer our students the opportunity to work in a more commercial kitchen space as they learn about kitchen and food safety while practicing cooking skills and techniques from around the world. Our very exciting upcoming new kitchen space is still a couple of years away from completion and we do need to upgrade some appliances, tools and space in general.
Health & Sustainability! Proceeds also go towards purchasing more clean, local and organic ingredients for our students to cook with. Part of these foods will come from our school garden, which currently undergoing an exciting restoration. Money will be set aside to help with this project. We would also like to begin to be able to donate to our local food pantry or have students occasionally provide a lunch or food event for designated local community groups.
International Culinary Learning Adventures - Finally, we began a Culinary Travel program in 2017 to offer our students the opportunity to experience the foodways of other cultures with cooking classes, visits to farms and marketplaces and dinners with local families. Culinary travel scholarships have helped several students with trip costs to represent Nauset at the 2017 Global Student Leadership Summit on The Future of Food in Milan, Italy & our 2019 Culinary & The Arts trip to Spain and Italy! Our 2021 Culinary & Culture trip to Greece was postponed due to COVID, but is re-scheduled for April ?22!
CHECK OUT THESE SPECIAL ITEMS!