Donate Cash
Auction Links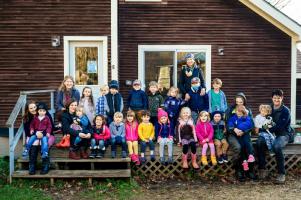 Lincoln Cooperative Preschool is running its annual online auction fundraiser!
Lincoln Cooperative Preschool is organizing our annual online auction event. This event helps our local preschool reach fundraising goals and helps enhance the preschool experience for our community's children. Because of generous donations from local business and community members, the preschool was able to build an outdoor classroom in 2020 which has allowed our children to enjoy a safer, more reliable experience during the COVID-19 pandemic. We could not have accomplished this without the help of our beloved community!
Starting on May 13, 2022 and ending May 27, 2022, Lincoln Cooperative Preschool will be auctioning off a number of fun and unique items to bid on to raise money for our school. We hope you, as a member of our community, will help us reach our goals to keep this school a special place for the children of our community.
All winning bidders may pick up their items at the Lincoln Preschool. If this is going to be difficult for you, feel free to reach out to Jake at jakemcd33@gmail.com to figure out an alternate method. Thank you!
LINCOLN PRESCHOOL IS BUILDING AN ADDITION
This year all proceeds of the auction are going towards our renovation campaign. We are building a new classroom and bathroom to accommodate more students, starting in the Fall of 2022. Thank you for being part of this exciting moment for our school and preschool community! Your financial support helps us nurture the next generation. Thank you and happy bidding!