Donate Cash
Auction Links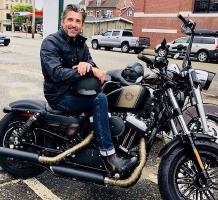 Exclusive early bidding for Patrick Dempsey's custom Harley-Davidson is now open!
The online auction for Patrick Dempsey's personal, custom Harley-Davidson and Meet + Greet is now open. The auction will run from May 26, 2022 to June 10, 2022, with proceeds supporting the Dempsey Center, whose mission is to make life better for people impacted by cancer. This one-of-a-kind opportunity provides you with the chance to own Patrick's custom, Harley-Davidson Sportster XL1200C, receive an autographed photo of Patrick on the Harley, and a photo opportunity with Patrick when you pick up your new bike!
Ready to Bid?
Click Register to Bid to register with Bidding for Good.
PLEASE NOTE: You will need to register with a credit card in order to place a bid in the auction. Your credit card WILL NOT be automatically charged. If you are the winning bidder, a staff member will contact you to arrange payment if you prefer to pay by another method. Payment must be received within 10 days of auction close out or the item will go to the next highest bidder.
Questions? Please contact ddeletetsky@dempseycenter.org .
Make Your Bid to Help Make Life Better for People Impacted by Cancer
Your bid to win Patrick?s personal, custom-built Harley-Davidson will benefit the Dempsey Center, which was founded in 2009 by actor Patrick Dempsey with the mission to help make life better for people impacted by cancer. With two physical Centers in Lewiston and South Portland, Maine, and our third, virtual Center?Dempsey Connects, which launched in 2020?the Center?s specially-trained team of experts provides curated, holistic care to people impacted by cancer in Maine and beyond. Whether you are a cancer patient, survivor, care partner, or family member, the Dempsey Center has services designed with you in mind and provides you with a haven of support?all at no cost.
Visit dempseycenter.org to learn more about the Dempsey Center.
Patrick Dempsey Harley-Davidson Sportster Package