Auction Links
Top Bidders
bs4703eda

$790

lc3fa17df

$717

ng1006301

$691

bb43021f7

$655

avc41da56

$637

bta9c0e4cc

$585

lv9a23520

$479

eb3f3e013

$409

ds8fcf4e4

$327

amcbe969e

$265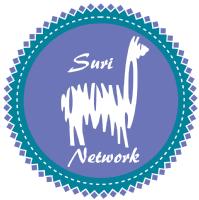 SURI NETWORK is hosting its annual online auction fundraiser!
Starting on November 7, 2022, SURI NETWORK is auctioning off a number of fun and unique items to bid on to raise money for our organization. We have many gift giving items for auction - perfect for the upcoming holiday season! We also offer a variety of services for auction, as well as livestock items.

About Suri Network - The Suri Network exists to assist its members to protect, preserve, and promote the Suri alpaca. A group of Suri owners established the Suri Network in 1997, a few years after the first Suris were imported to the United States from South America.
Since its beginnings, the Suri Network has organized numerous educational events, published the PurelySuri Magazine, held multiple fleece shows, facilitated research, educated consumers about the unique qualities of Suri fleece, promoted the use of Suri alpaca in different products, developed a Suri breed standard, and served as a conduit between its members and the Alpaca Owners Association.
Give a little and get a lot in return - Whether you bid on 1 item or 100, your participation is an invaluable part of our fundraising efforts. By bidding on an item or service directly online, you'll be helping to raise money for our organization and for the beautiful and rare Suri alpaca.
Here is just a sampling of some of the many items you can bid on!